The first business process management system
iGeny PRO is the first business process management system designed for financial security advisors.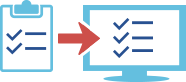 Processing of new business
A rigorous and consistent process allows you to complete your various proposals accurately and smoothly.
 
Management of service requests
You are accompanied and directed at all stages of your business, from customer inquiry to the implementation by the insurer.
In this way, you reduce the risk of oversights and runtime errors.

Automated communications
You can now easily send your copies of signed forms to insurers through our secure interface facilitating the exchange of documents between you and your client.
Your first 30 days are free